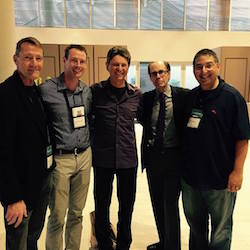 I just got back from Bouchercon 2014 in Long Beach and I can only speak in a whisper. Fried my vocal cords talking to so many authors and readers, spreading the word about our crime novels and thriller books. The conference had special significance for me and my Brash partner Joel Goldman. It was only 12 months ago, at Bouchercon 2013 in Albany, that we came up with the idea of launching this publishing company. And now, a mere 12 months later, we've published thirty books and we've got more on the way. We can't believe it!
I am so glad that we made that decision. We love the the books we're publishing and we are so excited to finally get them into the hands of readers. And we are having so much fun, too.
The conference gave us a chance to see several of our authors, including Maxine O'Callaghan, Dick Lochte, Gar Anthony Haywood, Craig Faustus Buck (his new novel GO DOWN HARD is coming in May), Phil Reed (his new novel is coming in August) and Robin Burcell (who is hard at work on her new novel in Carolyn Weston's "Krug & Kellog" series). We also got to hang out with many of our author-friends, including Lee Child, Boyd Morrison, Paul Levine, and Jeffery Deaver (all in the picture to the left) as well Robert Gregory Browne, Jamie Mason, Chris Pavone, Brett Battles, Michael Connelly (#1 author in America this week with The Burning Room), Harley Jane Kozak, Thomas Perry (who got a starred review from PW for his new book), Melinda Leigh, Donald Bain (on book #43 in the Murder She Wrote series!), Blake Crouch (taking over TV with Wayward Pines), Robert Ward, Alexandra Sokoloff, Barry Eisler, Lisa Klink, Phoef Sutton, Max Allan Collins, Brendan DuBois, SJ Rozan, narrator Scott Brick and author/publisher Jason Pinter, to name just a few.
We were thrilled by the warm and enthusiastic response we received from readers to Brash and our books. So many people were genuinely excited about the books we're publishing and our "mission statement" to seek out the best crime novels in existence. They gave us so many recommendations for great authors & books that they'd like us to publish. We took lots of notes and are going to considered every suggestion. We were also approached by authors interested in being published by Brash…and in the few hours since the conference ended, the submissions have already started to come in.
All in all, it was a fantastic trip. Now we can't wait for Left Coast Crime in Portland in March. We hope we'll see you there!
You can find photos from Bouchercon 2014 in our photo gallery