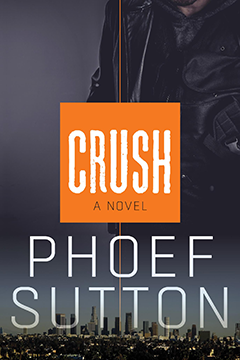 Brash Books Author W.L. Ripley (Storme Warning, Hail Storme, etc) shares the thrilling books he's been reading lately…and that you might want to add to your summer reading list.
Crush  (Phoef Sutton) – Phoef is an Emmy award winning writer for such luminaries as "Cheers," "Newhart" and "Boston Legal." His protagonist Caleb Rush (AKA: Crush) is a titanic hero who can do anything and everything and does it with panache and rollicking humor in a story that takes the reader on a wild carnival ride through the mean streets of the L.A. underworld. There is tension, black humor, pathos, quirky dialogue along with the humorous on every page. Sutton hits every note as Crush never flags nor falters as it leaves the reader dazzled and exhausted.
Go Down Hard  (Craig Faustus Buck) – Buck's multi-tiered novel has one of the more interesting modern protagonists I've come across in Nob Brown, a cash poor, world-weary ex-cop turned freelance writer who investigates the unseemly murder of a Rock Diva he himself idolized. Brown uncovers some fetid secrets that unleash forces that place Brown himself in danger.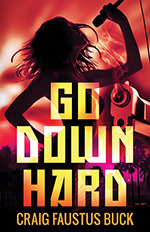 Nob Brown is not your run-of-the-mill mystery protagonist – he has doubts and desires that are outside the norm and a wonderfully tilted view of the world around him that is a delight. Brown doesn't keep his emotions deep inside, they are very much a part of the way he approaches things and it makes him a fun character.
Buck will keep the reader turning the pages and smiling from beginning to end.
Out of Range (C. J. Box) – The fifth outing of Wyoming Game Warden, Joe Pickett, finds Box's stalwart hero in Jackson Hole, Wyoming, and kicking open a nasty nest of murder, political intrigue among the rich and famous along with an attempt on the warden's life. Pickett, a loving family man, is troubled and enticed by the beautiful wife of a powerful and well-connected developer who wants to turn a pristine Wyoming wildlife area into a meat preserve for rich yuppies. Pickett must also contend with a larger-than-life hunting guide with an atavistic bent and murderous intentions toward Pickett while Pickett is trying to learn why his predecessor committed suicide. Pickett is a unique protagonist in the mystery/thriller genre and satisfying reading.
The Chase (Janet Evanovich & Lee Goldberg) – One word. Funny. From beginning to end, The Chase entertains and makes the reader smile. The teaming of criminal genius Nicolas Fox and FBI Special Agent Kate O'Hare  creates humorous tension throughout this caper novel. Fox has only been caught and cuffed once and Kate is the agent who snapped them on. Now they work together to recover a priceless rooster statue that has been stolen by a former U.S. Chief of Staff from the People's Republic of China. Fox and O'Hare must re-steal the statue in order to return it to the Chinese, but the heist is complicated by the shadowy security force headed by the former Chief of Staff. The initial heist is a charmer as Fox cunningly thwarts the state-of-the-art security system but that's not the last time the statue changes hands.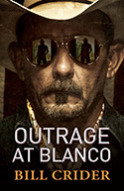 This collaboration – both by Fox and O'Hare as well as by Evanovich and Goldberg – has landed this series on the bestseller list. You can find books in this series everywhere . . . and I mean every-where. More fun than a busload of Elvis impersonators.
Outrage at Blanco (Bill Crider) – I love Westerns. And this is a good one. Bill Crider has created a noir western with a pair of highly unlikely, yet resolute heroes in Ellie Taine (a widow who has suffered rape and the murder of her husband) and terminal cancer sufferer, Jonathon Crossland, a John Wayne style rancher/hero. Taine and Crossland are after the men who raped Ellie and killed her husband and Crossland's son. Ellie rides for revenge; Crossland wants one last ride before succumbing to the ravages of his disease. The trio of villains they're chasing are vile and semi-hapless, yet deserving of their fate. Crider's style is direct and lean, like the best Westerns are. There are no wasted words or wasted scenes as Crider keeps the reader focused on the plot. Good stuff.
Robert B. Parker's Cheap Shot (Ace Atkins) – What can be said about the way Atkins has continued the Spenser saga? Atkins' research and talent has breathed new life into Robert B. Parker's beloved series. Atkins amazes with his grasp of the Spenser character and the Boston setting. The transformation is complete and Robert B. Parker lives through Atkins' keyboard.
There are literary cameo appearances by old school Spenser friends and enemies as well as the patented Spenser humor. Spenser has had a long run and Atkins' pays homage to that legacy with lines like ". . . blue jeans so tight they could've been applied by Earl Schieb." The efficacy of this line (and many more like it) is that this is something Parker would've written and Spenser would've said, given the catalogue of Spenserisms we have at our disposal.
Cheap Shot concerns itself with the kidnapping of a superstar linebacker Kinjo Heywood's son and the tangled web of red herrings and underworld creeps that Spenser uncovers. Boston the city, itself, is a character of the novel and Parker would be happy to find that Atkins has thoroughly researched and frequented the places mentioned. Atkins understands the world of the athlete having, himself, played football at Auburn University.
This is one of the better Spenser's in many years. If you love Spenser then you are in for a treat. Spenser is alive and well under the hands of Ace Atkins.
Michigan Roll (Tom Kakonis) – tough and shadowy, Kakonis' story of itinerant gambler, ex-con and "Applied Probabilities Analyst", Timothy Waverly, is an absorbing tale of an educated and iconoclastic man on a dark road who runs across two of the most unsavory characters in modern fiction. Their street names, "Shadow" and "Gleep", describe this pair of psychopaths who do the bidding of an unusual polychromatic mob boss. Waverly is tough-minded but troubled by the path his choices have left him with. Not for the faint of heart but if you like hardcore neo-noir thrillers (I do) then this is a book worth reading. Kakonis is one of the best at this type of action and his uncompromising hand at developing tough characters is one of the aspects of his work I admire.
Kakonis, like Leonard, is not afraid to look down the back alleys of the criminal underworld and drag out the lowlifes. Michigan Roll – read it, enjoy it, squirm.
The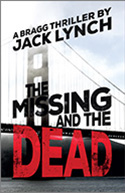 Missing and the Dead (Jack Lynch) – One of the best, the late Jack Lynch, writes a page turner in The Missing and the Dead this Edgar Award winning second thriller in the Peter Bragg series. Bragg is a P.I. in San Francisco and makes the Bay Area come alive in the way that James Lee Burke does for Southern Louisiana.
Bragg is hired by a television personality to locate her brother who vanished two weeks before. At stake is a large fortune left by a relative who subsequently dies.
Bragg digs. A killer emerges but keeps Bragg guessing. There's a pilfered payroll, an airplane crash and other plot twists to keep the reader turning the pages.
Sometimes, "You do whatever there is left to do," says tough P.I. Peter Bragg at one point near the end of "The Missing and the Dead". Great line; one of many in this book that make me lament the loss of one of the finest mystery writers of our time. Fortunately readers can again enjoy his work as the entire series is once more available from the good people at Brash Books.
Books to read list:
Memphis Ribs, by Gerald Duff (Brash Books, May 2015) – "Memphis homicide cop JW Ragsdale has to solve the murder of a socialite, a drunken conventioneer, and a gang leader just as tourists are arriving in droves for the International BBQ contest and Cotton Carnival. It's a wild tale of deception, crime, and Southern barbecue." (Brash Books blurb)
Kickback: a Spenser Novel (Ace Atkins) (G.P. Putnam's, May 2015) – Fourth Spenser written by Atkins, who is carrying on the Parker series with panache and expertise. I've read all of Parker's books two or three times and it will be the same for Atkins' treatments. (See also: Atkins' Quinn Colson series.)
The Juan Doe Murders, by Noreen Ayres (Brash Books). Love the description by Booklist, "A swift descent into sunburned decadence." Ayres is an Edgar Award nominee and her character, Smokey Brandon is her series character, a female forensic detective pre-dating CSI.
Finally Something to be Said for the late Elmore Leonard:
Want to take this moment to talk about the trio of the final Dutch Leonard novels Road Dogs/Raylon/Djibouti (Elmore Leonard) – What a loss the literary world experienced with the passing of Elmore Leonard whom I consider the greatest crime novelist of our time. No one was better at criminal patois than Leonard who could take the simplest exchange of dialogue and make it sing. He does this in Djibouti a book which sadly, is his worst and next-to-the-last offering. While he is once again, able to write page-turning dialogue, the setting (African coast) and villains (Somali Pirates) didn't excite me much and neither did his heroine and her tall 60-year-old sidekick. This may just be a matter of taste but the story did little for me and never seemed to arrive anywhere and yet . . . and yet Djibouti still entertains with the snappy dialogue and the colorful characters. Just not my style. A miss for a giant in this genre.
Road Dogs marks the return of Bank Robber Deluxe, Jack Foley (Out of Sight) and con-woman fortune teller Dawn Navarro (Riding the Rap). There is also a third resurrected character in Foley's Prison buddy, Cundo Rey (La Bravara), who is now rolling in ill-gotten gains but is still prison bound. Foley is enjoying the high life in one of Rey's mansions while the latter is still in the grey bar hotel. All of which may come to an end, when Rey's henchmen take an interest. Navaro wants Foley to help her appropriate Rey's fortune but Rey is released early from prison and Foley must dance lightly away before Cundo Rey and his men can end his existence. Typical Dutch Leonard fun and Foley is one of his best characters.
Raylan marks the fourth (Pronto, Riding the Rap and Fire in the Hole) and last outing of one of the greatest characters in modern literary fiction. Raylan Givens, who many know from the acclaimed FOX television series, "Justified", is very much large and in charge in Raylan, an episodic work that precludes (or amplifies and improves upon) the TV series. There seems to be a question of which came first, the novel or the fourth season of "Justified". All the things that make Raylan Givens an interesting character are at play and this one could be read over and over. Raylan is an atavistic U.S. Marshal's Deputy who is more Wyatt Earp than modern law enforcement officer and Raylan, the novel, provides a winning exit for a great American author.
Raylan reads very much like three novellas (or three episodes of "Justified") rather than one seamless novel but Leonard is in complete control all the way. I already miss both the author and his creation as they ride off into the sunset. More's the pity that they're gone.