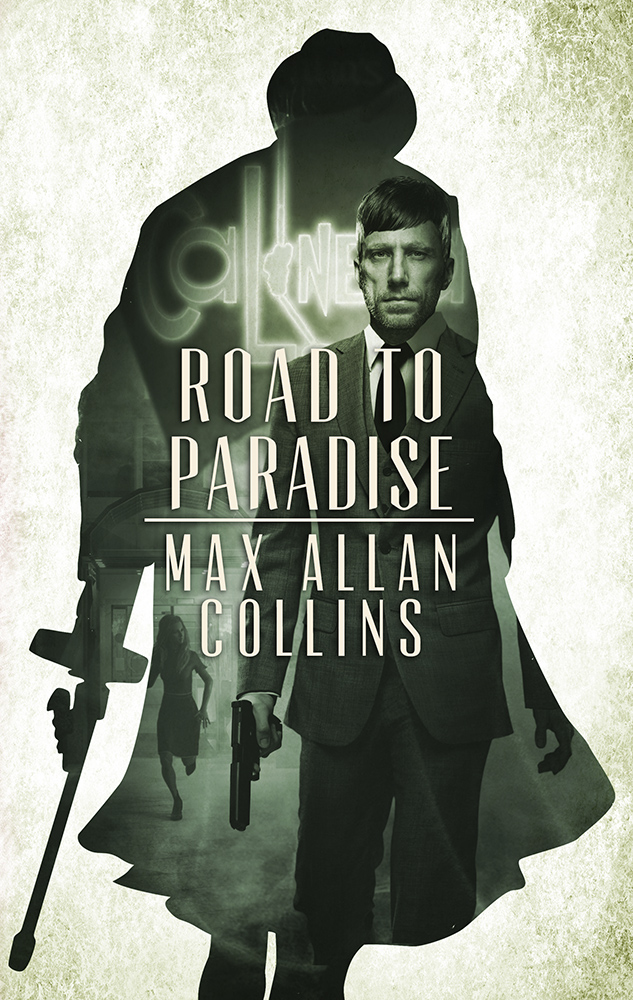 The new Brash Books edition of Road to Paradise is out, and if you're a fan of the trilogy – particularly if you've never read my complete version of the Road to Perdition movie novel – I hope you'll support me and Brash in this fine effort, and buy all three. Brash did a lovely job packaging the books, which look very nice on a shelf together.
Some readers seem flummoxed by the O'Sullivan saga. It starts as a graphic novel (Road to Perdition), becomes a movie of that novel generating a novelization of the screenplay (with me doing a novel based on a screenplay based on my graphic novel), followed by a sort of prequel graphic novel (Road to Perdition 2: On the Road) published in three parts and then collected, with two prose sequels (Road to Purgatory and Road to Paradise) and a final graphic novel (Return to Perdition) rounding things out.
Even I'm confused.
How did all that happen? Well, when the movie came along I did not want to see a novelization written by anyone but me. Since at the time I was doing a lot of movie and TV tie-in work, I felt it would be an embarrassment to have someone else do it. I did not predict that my novel would be butchered (and that I would have to do the butchering myself), nor did I predict that many years later a publisher would come along (Brash) to navigate the rocky waters of freeing up novelization rights to a big-budget Hollywood film so that my full version could finally be published.
The weekend Road to Perdition opened and was a hit, I rolled into action (or that is, my agent rolled into action). I was ready with the idea to do the two prose sequels, knowing that my artist – the wonderful Richard Piers Rayner – could not produce graphic novel sequels in a timely enough fashion to take advantage of the moment. But I also knew there was an appetite from publishers for more Road to Perdition in comics form, and indeed both Marvel and DC came looking. Richard was enlisted for the covers (that sort of fell through, an editorial decision I did not control) and several other terrific artists came on board to get Road to Perdition 2 out there quickly.
The coda to the series, Return to Perdition, with my longtime collaborator Terry Beatty coming on board, would have been a prose novel if the publishers of Purgatory and Paradise has been interested – they weren't, but DC was. So we ended as we began, as a graphic novel.
I do view the graphic novel material as one thing – three graphic novels – and the novels as something else – a prose trilogy. That they fit together is more a bonus than a necessity. The prose trilogy works fine on its own.
That torturous tale – as dull a one as I have ever told – ultimately adds up to my gratitude to Brash Books for bringing the prose trilogy out in a lovely, uniform editions, with special thanks for rescuing the Perdition prose novel from tie-in oblivion.
Road to Paradise was an especially difficult one to put together, making me flex narrative muscles – characterization depths – that I hadn't before or since. I think of it as a kind of deadpan tragedy, with some blood-spattered redemption by journey's end.
Again, you won't be sorry if you add these to your Max Allan Collins shelf (something each and every American should have!).