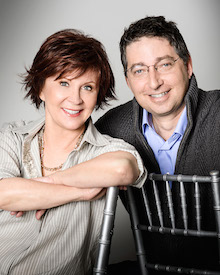 Next week, New York Times bestselling author Janet Evanovich will release the next thriller in her bestselling Stephanie Plum series of mysteries, Top Secret Twenty One, and the newest title in the blockbuster series is poised to debut at #1 on the New York Times bestseller list – just like every other Stephanie Plum mystery in the last 15 years. Fans can't get enough of the beloved bounty hunter, and those fans range from romance readers to mystery lovers to fans of crime fiction. With such a diverse audience, it's no wonder Evanovich is one of the most successful female mystery writers in the business.
One For the Money  Sparked the Plum Crazy Phenomenon
Evanovich started out as a romance writer before she launched the Stephanie Plum series in 1994. In One for the Money, she created a character that would appeal to a wide variety of readers – including her existing fan base of romance readers, while picking up new fans of mysteries and thrillers along way. Stephanie Plum is spunky and sassy, and the bounty hunter is certainly not without her flaws. Down and out after she loses her job, Plum is also down to earth, having regular dinners with her parents– and then there's the case of that on again off again boyfriends Joe Morelli and Ranger. Stephanie Plum is a regular girl who rises to the occasion when it's necessary, and fans of romances and mystery novels alike cheer her on through every professional success and personal disaster.
Evanovich Strikes Gold Twice with Fox & O'Hare
She injects that same likeability into each new book she creates – including the electrifying Fox & O'Hare series she writes with Brash Books co-founder Lee Goldberg. In June 2013, the duo released The Heist, which was a New York Times bestseller and introduced irresistible con man Nicolas Fox and uptight FBI Special Agent Kate O'Hare as an unlikely team of crime fighters. The second book, The Chase, debuted this past February at #2 on the New York Times bestseller list, continuing Evanovich's Plum crazy winning streak.
Readers are as drawn as much to Fox's charm as they are to O'Hare's tenacity – not to mention the tension that sizzles and crackles between the two. It's no surprise The Heist and The Chase were bestsellers and The Job, scheduled for release later in 2014, is sure to be equally successful.
While many of Evanovich's fans already love the Fox & O'Hare series, the new Stephanie Plum book, Top Secret Twenty One, will introduce new readers to the series by including Pros & Cons, a short story about the duo co-written with Goldberg. If you love Stephanie Plum, Fox & O'Hare are every bit as entertaining.