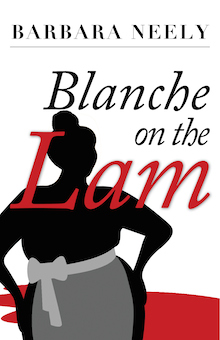 Our guest blogger Naomi Hirahara is the award-winning author of the mysteries featuring gardener-sleuth Mas Arai: Summer of the Big Bachi, Gasa-Gasa Girl, Blood Hina, and the Edgar Award-winning Snakeskin Shamisen. Hirahara is the past president of the Southern California chapter of Mystery Writers of America. Today she talks about how much she loves Barbara Neely's Blanche on the Lam.
Before Mma Precious Ramotswe came on the American scene, there was another "traditionally built" sleuth who had been introduced to mystery readers here–Barbara Neely's Blanche White, an African-American housekeeper in the South who is on the run for writing some bad checks in the first book in the series, Blanche on the Lam, now being re-published by Brash Books.
While Botswana's Ramotswe is wise and reflective, White of North Carolina is sassy and proud. It's her street smarts and take-no-prisoners attitude that aid her in solving the crimes that come across her path within the homes she cleans and the communities she visits.
Blanche on the Lam was originally published in hardcover by St. Martin's Press in 1992 and soon thereafter collected Best First Novel awards (the Agatha, Anthony, and Macavity). Although author-critic Paula L. Woods refers to Pauline E. Hopkins, who wrote the 1900 locked-room short story, "Talma Gordon," as the "foremother of African-American mysteries," it seems that a black female series sleuth didn't make it to mainstream U.S. publishing until the creation of Blanche White. Shortly thereafter we see the introduction of Eleanor Taylor Bland's Marti MacAlister (March 1992), followed by such illustrious series protagonists as Nora DeLoach's Candi and Simone Covington (1993), Charlotte C. Carter's Nanette Hayes (1997), and Chassie West's Leigh Ann Warren (1999).
It was a co-worker in the newsroom of a Japanese-American newspaper who first introduced me to Blanche. In fact, she was such a champion of the series that she had inadvertently given me two paperbacks of Blanche on the Lam as gifts in the 1990s. I was happy to receive multiple copies, because it enabled me to be a Blanche evangelist as well.
I was already a big fan of Chester Himes' Coffin Ed Johnson and Grave Digger Jones and, of course, Walter Mosley's Easy Rawlins. Those characters, however, take us back in time, while Blanche is a modern player dealing with race, class, and gender issues. Neely infuses Blanche with much humor, which may differentiate her style from contemporaries who are writing more elegant traditional mysteries and police procedurals featuring African-American women.
While the first in the Blanche series is my favorite, Neely was ambitious with her following three books, taking her sleuth into new places and work situations. The second installment, Blanche Among the Talented Tenth, examines light skin/dark skin issues within the black community in an exclusive resort in Maine, while the third book, Blanche Cleans Up, travels to Boston. The fourth, Blanche Passes Go, returns to North Carolina in a final revenge tale. (All three books are being republished by Brash)
I've posited this before, but African-American crime fiction has been an important influence on minority writers such as myself. The use of dialect and taking mainstream readers on a journey into a world that they may know little about are complex issues that sometimes generate much debate. As I stubbornly clung to writing mysteries featuring a Japanese-American gardener in Los Angeles for close to 15 years, I looked to characters like Blanche for inspiration. In fact, when I searched for a literary agency to represent my Mas Arai series, I referred to the acknowledgments page of a Blanche book and solicited Barbara Neely's agent, who represents me to this day.
So, while there don't seem to be any more Blanche White books on the horizon, the series, for me, is hardly forgotten. The yellowing pages of that same paperback copy of Blanche on the Lam will always remain on my bookshelf. I fully realize that Mas Arai may have not made it to a New York publishing house were it not for the help of a black housekeeper from the South.
This post originally appeared on one of our favorite blogs on the web, The Rap Sheet. If you're a mystery book & TV lover, and you aren't reading that blog, you are missing out!