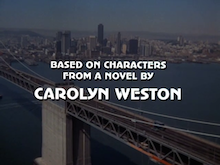 We're thrilled to announce that we've acquired Carolyn Weston's three classic police procedurals — Poor Poor Ophelia, Susannah Screaming, and Rouse the Demon — which were the basis for the hit TV series The Streets of San Francisco starring Karl Malden and Michael Douglas. We'll be publishing all three books, beginning in February 2015.
Everyone knows about the TV series, but few people are aware of the woman who created the characters. Carolyn Weston grew up in Hollywood during the Depression. She played hooky from school in movie theaters and libraries, honing the craft that would make her books so remarkable. During World War II, she worked in an aircraft plant and then did odd jobs around the country before writing Poor Poor Ophelia, launching a series of books that are every bit as good as Ed McBain's 87th Precinct and just as memorable.
We know you're going to love them!