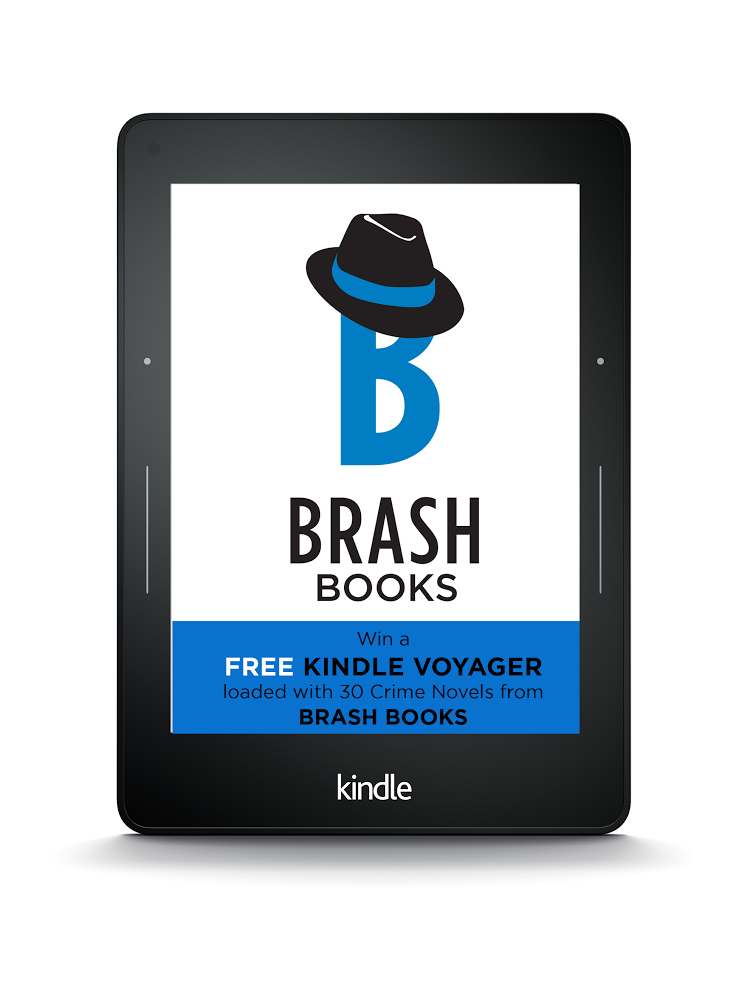 We're pleased to announce that we'll be republishing Geoffrey Miller's Edgar-award nominated THE BLACK GLOVE… which the Houston Post hailed as equally the best of Hammett and Chandler. Hardboiled detective lovers have been looking for this rare books for years… but now you'll be able to find it in ebook and paperback editions from Brash in May.
And don't forget to enter our contest for a free Kindle Voyage loaded with ALL of our Brash Books. All you have to do is review any Brash crime novel on Amazon, your blog, Facebook or Google+ page and send us the link at brashbooks@gmail.com. Winners will be announced Dec. 15th.
For a limited time, we're offering the first four of Jack Lynch's Edgar & Shamus Award nominated BRAGG novels for just $2.99… along with eight other award-winning novels by Dallas Murphy, Maxine O'Callaghan, Bill Crider and Michael Stone. The full list is below. But hurry…this sale will be over in a few days.
THE MISSING AND THE DEAD by Jack Lynch
Nominated for an Edgar Award, Jack Lynch's second Bragg mystery is a chilling case of stolen art and shocking secrets. Now, the relentless private eye must connect the dots before a serial killer Xs him out for good.BUY NOW FOR 

$2.99

PIECES OF DEATH by Jack Lynch
Peter Bragg goes to San Francisco International Airport to protect a man arriving with a valuable package and ends up in a brutal gun battle with two ruthless and brazen assassins. When the smoke clears, the traveler is a corpse and his package has disappeared…Bragg doesn't have it and neither do the killers. Bragg becomes the hunter and the hunted as killers descend on the city to find thirty-two gem-encrusted chess pieces smuggled out of China that are worth a staggering fortune…one somebody is willing to step over a pile of bodies to have for himself…if he can get past Bragg first.BUY NOW FOR 

$2.99

WAKE UP AND DIE by Jack Lynch
A blackmail case leads private eye Peter Bragg across the Golden Gate to Sausalito, a waterfront playground for the rich and where real estate developers are fighting a brutal war to claim every precious inch of bay view land, soaking the dirt with the blood. Bragg is the only one who can stand up against the campaign of torture, arson, and murder…and reveal who is behind all of the bloodshed…if they don't kill him first.BUY NOW FOR 

$2.99

SPEAK FOR THE DEAD by Jack Lynch
An escape attempt at San Quentin goes to hell, a guard is beaten into a coma, and the hard-core convicts retreat to a corner of the prison with their hostages, including two civilian women. It's a deadly stand-off…a bloody powder-keg ready to explode into a full-scale massacre. The cornered, desperate prisoners have one demand: they want private eye Peter Bragg to clear the ringleader's teenage brother of a murder charge in a small, northern California town. It's a high-stakes case with a brutal ticking clock, and it pits Bragg against cops, neo-Nazis and  powerful enemies who would like to see him, the convicts, and the hostages all go down in a hail of flames and gunfire that would keep their secrets from ever being revealed.BUY NOW FOR 

$2.99

A LONG REACH by Michael Stone
Bounty hunter Streeter is a string of ex's…ex-linebacker, ex-accountant, ex-bouncer, and a four-time ex-husband…who excels at exacting justice…with explosive results. A psychotic felon is released from prison on a technicality and vows to kill everyone he blames for his imprisonment…saving his defense attorney, Streeter's ex-fiance, for last, taunting her with each gruesome death. Streeter is in a race-against-time to hunt down the vicious killer—but he can't shake the feeling that his old lover is playing a deadly game of her own.BUY NOW FOR 

$2.99

RUN FROM NIGHTMARE by Maxine O'Callaghan
The original female detective is back! Maxine O'Callaghan's second Delilah West thriller takes the gutsy private investigator on a desert journey to find a missing woman—and takes you on unforgettable thrill ride.BUY NOW FOR 

$2.99

BAD NEWS AND TROUBLE by Maxine O'Callaghan
Before Kinsey Millhone, Sharon McCone and V.I. Warshawski, there was Delilah West, the sensitive, gutsy and resourceful private eye who shattered the boundaries of mystery fiction…starting with the ground-breaking short stories in this collection.BUY NOW FOR 

$2.99

THE OWL: SCARLET SERENADE by Bob Forward
It's the mean streets of L.A. in the mid-1980s. When The Owl rescues a young punk-rock starlet from being kidnapped, he considered it just a minor good deed with a few dead bodies left scattered around. But he soon discovers that she's the target of a gangland conspiracy that has half of the city's underworld after her. Now the only thing between her and certain death is The Owl.BUY NOW FOR 

$2.99

THE JUAN DOE MURDERS by Noreen Ayers
Forensic criminalist Smokey Brandon is an ex-cop and former stripper who investigates the mysterious deaths of illegal immigrants and reveals the horrifying secrets hidden behind the Southern California sunshine in Noreen Ayers' pulse-pounding crime novel.BUY NOW FOR 

$2.99

LUSH LIFE by Dallas Murphy
Artie falls hard for sexy pool player Crystal Spivey, whose sleazy ex-husband Trammel Weems abruptly topples off his fishing boat and disappears, along with $14 million of his company's assets. Soon Artie and Crystal find themselves at the center of a deadly caper involving crooked corporations, CIA spooks, and Mafia bankers. They'll be lucky if their romance can survive…if they aren't killed first.BUY THIS BOOK