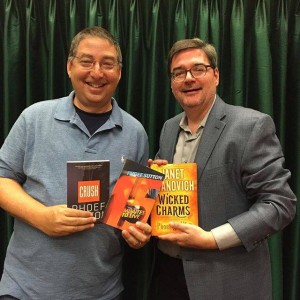 Book signings are a whole new world for me. I've been doing a number of them over the last few months. They ranged from interviews with my friend Lee Goldberg to readings from the books by yours truly.
The first signing was for FIFTEEN MINUTES TO LIVE, published by Brash Books, at the Barnes & Noble at The Grove in Hollywood. I did it along with Craig Faustus Buck, author of GO DOWN HARD, another Brash Books publication. The evening was moderated by Mr. Goldberg.
There was a pretty sizable turn-out, including many old friends from my TV days. The Grove is one of the ready-made, fake village squares that have popped up all over Southern California. The fact that it actually has a book-store gives it one up on most actual village squares.
With Lee leading the discussion, it was pretty darn fun. And with Craig there, I only had to talk half the time.
The next signing was for my novel CRUSH, published by Prospect Park Books. It was at my favorite bookstore in Pasadena, Vromans. Okay, it's the only bookstore left in Pasadena, but it's still my favorite and it's the largest independent bookstore in Southern California. Lee Goldberg did the moderating again, so basically we just talked in front of about thirty people the same way we talk over hot dogs at Brat Brothers.
I knew most of the people there. Friends who took a Thursday night to come up to Vromans and listen to us gab. We must have said some funny stuff, because everybody laughed.
The only line I remember was from a discussion of 'back story,' that element of story-telling so beloved by producers nowadays. I think 'back story' is way over emphasized. I explained it with a joke: "They don't want HOW THE GRINCH STOLE CHRISTMAS they want WHY THE GRINCH STOLE CHRISTMAS." Funny, and totally true.
The third book signing was at Mysterious Galaxy down in San Diego. It happened on the rainiest July day San Diego has ever seen! A stormy, humid day that reminded me of my time in Florida. As a consequence, when we walked into the lovely store in San Diego, we were greeting by no one but the very nice people who work there! We had a quite a good conversation with veteran mystery writer Matt Coyle and a nurse who had come off a 36-hour shift.
All in all, the book signing experience has been interesting and humbling, whether anybody shows up or not.