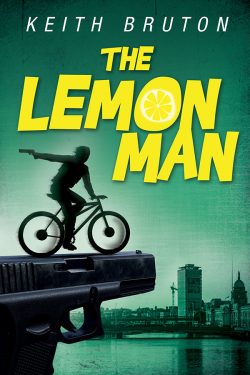 After majoring in marketing while completing my four-year degree at D.I.T. in Business & Management, I thought that I would work at a marketing firm in Dublin, like Don Draper out of Madmen, but that wasn't the case.
After university, I worked at an accounting firm with little experience before soon moving onto my next job at a nursing home, helping the company promote their new building. But, that didn't last too long either. In 2014, I met my partner Rachel on Tinder, who's from Canada and we clicked right away. One of the biggest things we had in common was our shared love for the arts. She listened to some of my ideas and pushed me to write about them.
In 2016, we moved to Toronto, Canada for four years and in our last year I was feeling a tad homesick, so I decided to write a crime novel set in Dublin. The question that lingered on my mind was: should the protagonist be a detective or private investigator? I'm a huge fan of crime thrillers and I wanted to write something dark, but with a bit of that Irish humour.
I wanted to write something different so I chose to write about a hitman, Patrick Callen: He has silver long hair and gunslinger moustache, who roams the streets of Dublin on his vintage bicycle in shorts and old slippers hunting down his next contract. There is no shortage of eccentric characters and Dublin is such an essential ingredient to the story.
They say write what you know and I know Dublin: the wet streets, the mad people, the pubs (751 of them, currently I've done 160) the bad weather, the parks, the tourist spots. How can ye not love this dirty city?
In early 2021, my partner and I moved back to Dublin. With Covid looming around in background and trying to find a place it was difficult to get into a routine to write. The journey to my debut novel like most aspiring authors was a struggle. I had plenty of rejections from the UK and Ireland, so I tried America. When I sent the first draft of my manuscript to Brash Books they didn't initially fall in love with the novel. They gave me the truth and sometimes the truth hurts, but it's needed to make the manuscript better. I went back to the drawing board, knowing I had something unique. I spent the whole summer of 2021 making major key changes. I sent the new manuscript back to the publisher and they loved it. I could tell that they were attracted to the setting of Dublin, the storyline and the wild bunch of characters throughout the book.
The Lemon Man aka Patrick Callen has a lot on his plate throughout the book: finding a baby on a hit, his mother dying, falling for an escort, his dark childhood and possibly having second thoughts if he should be a hitman anymore.
I'm delighted with the early reviews from Garry Disher, Linwood Barclay, Andrew Grant (aka Andrew Child), Tessa Wegert and Anthony J. Quinn.