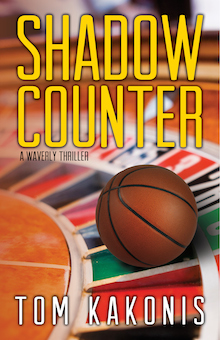 Novelist James L. Thane, author of No Place to Die and Until Death, shares his fondness for Tom Kakonis' gambling thriller Shadow Counter.

Shadow Counter is the third and final volume in Tom Kakonis's excellent series featuring Timothy Waverly, a professional card player who has found nothing but trouble ever since Kakonis first introduced him in Michigan Roll. At the end of the second book, Double Down, he and his long-time partner Bennie Epstein had to race away from another dicey situation in Florida.
It's now 1993, and they've landed in Vegas, living in a pitiful house and trying to fly under the radar while they attempt to cobble together the stake that will put them back on Easy Street.Waverly is playing Blackjack, very carefully and for very small stakes. Carefully, because he knows that if he gets branded as a card counter, he'll be banned from every casino in town; for very small stakes, because that's all he has and because Bennie is losing their money on "sure thing" sports bets about as fast as Waverly can make it at the tables.
This being Vegas, there are a lot of other dreamers and schemers in town, among them, Wyman Brewster, a self-proclaimed "healer" who believes that virtually any illness, no matter how severe, can be cured by cleansing the body of impurities and replacing them with natural ingredients. Brewster is working out of a storefront center where he counsels patients and sells his natural products, but he dreams of opening a beautiful clinic, somewhere far away from Vegas, where he can chart a new future for the deadly sick.Also in town is Ignatius "Eggs" La Revere, a sadistic con man who not only loves to fleece his victims but to do great and imaginative bodily harm to them as well. Both Brewster and La Revere are in desperate need of money, and each thinks that the other might be able to supply it.
Normally, this would have nothing to do with the fortunes of Timothy Waverly and Bennie Epstein, but as fate would have it, Waverly's very naïve sister, Valerie, lands in town from South Dakota.Valerie, who lives a "natural" life herself, is enamored of Brewster's reputation and is determined to join his team. That puts her smack in the middle of the maneuvering between Brewster and La Revere, and Waverly believes he has an obligation to step in and save his sister from disaster, even though she refuses to believe his wise counsel.
What follows is a great story with a cast of marvelous and very quirky characters. Vegas is on display at its shabbiest best and Timothy Waverly continues to be a great protagonist.
This book, along with the first two books in the series, have long been out of print but are now being re-released in great new trade paperback editions by Brash Books. All three of the books have held up very well and seem as fresh as they were when they first appeared in the late 1980s and early '90s. It's hard to imagine that there's any fan of crime fiction that would not enjoy them, but do yourself a favor and start with Michigan Roll. Trust me, you won't regret it.