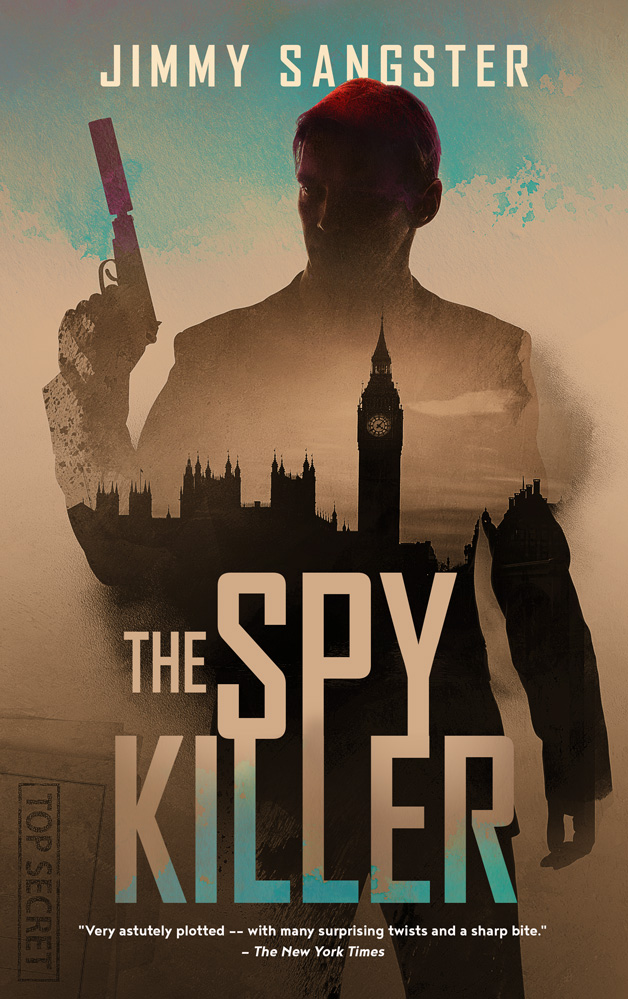 We're declaring this the Summer of Sangster as we proudly release all of the incredible crime novels and espionage thrillers by Jimmy Sangster, one of the most beloved and versatile writers in the genre… and the truly legendary writer/producer/director of scores of classic Hammer Horror films in the UK.
SPY VS SPY
Critics are going wild over THE SPY KILLER, one of the best espionage novels ever written.
"An exquisite series launch. Spy fiction fans will revel in this dark, witty story." Publishers Weekly
Ex-British spy John Smith is nearly broke, has bad teeth, is lousy in bed, and drinks too much. But he's no fool. He's a man who knows his own limitations and works within them. He blackmailed his way out of the secret service years ago and is barely making a living as a London private eye when his ex-wife comes calling and asks him to follow her philandering husband. But that sleazy, all-too-common job leads to some uncommon trouble… and Smith is thrown like a chunk of raw meat into a lion's den of international espionage, betrayal, and killing. His only hope of surviving is to outwit his clever and brutal adversaries at their own deadly game.
"Very astutely plotted, with many surprising twists and a sharp bite." New York Times
"There's nothing ordinary about this adventure. It's big league intrigue." Kirkus Reviews
"A deadly, cold, serious drama of counter-espionage." Atlanta Constitution
"A witty spy story in the anti-James Bond tradition." The Cedar Falls Courier
THE SPY KILLER (Amazon, Apple Books, Barnes & Noble, Kobo) and the terrific sequel FOREIGN EXCHANGE (Amazon, Apple Books, Barnes & Noble, Kobo) are available now in ebook and trade paperback editions! An audiobook edition of THE SPY KILLER is also coming soon.

HAVE A BALL
We've also just released new editions of SNOWBALL, BLACKBALL and HARDBALL, Jimmy Sangster's three highly acclaimed crime novels featuring James Reed, an ex-Scotland Yard cop living in Malibu who always manages to get into trouble.
The Hartford Courant says SNOWBALL is "crammed full of sex, drugs and Hollywood. This book is a bright evocation of La-La-Land," and the New York Times can't stop with the superlatives: "Smooth, sharp, believeable, well-written." You can get SNOWBALL now in ebook or paperback from Amazon and Barnes & Noble, or ebook only from Kobo and Apple.
BLACKBALL is "a fast-moving, funny, sexy—very sexy—story," says the Orlando Sentinel, adding that "the conclusion is a shocker. Sangster is writing better than ever and James Reed is a very charming character." Amazon, Barnes & Noble, Kobo
Publishers Weekly says HARDBALL is "excellently plotted and paced," and the Chicago Tribune says it's obvious that "Sangster certainly has a ball writing this series." Amazon, Barnes & Noble, Kobo, Apple
And once you've read and relished these three crime fiction masterpieces, you'll be ready for the early 2020 release of FIREBALL, the long-lost, never-published, fourth book in the James Reed series. We recently discovered the manuscript and it's terrific!
GET IN TOUCH
If you're looking for a light-hearted, lively escape on the beach this summer, then we've got two more wonderful Jimmy Sangster novels for you… his delightful TOUCHFEATHER and TOUCHFEATHER, TOO. Imagine Bridget Jones with a license to kill and Stephanie Plum's sassy attitude and that's Katy Touchfeather, a British spy traveling the world undercover as a stewardess.
In TOUCHFEATHER , you're transported back to the 1960s for a wild, swinging spy adventure. Katy's assignment is to track down a scientist suspected of selling secrets to the Russians. When this high-stakes global escapade takes an unexpectedly-violent turn that shatters her life, she finds herself in the ultimate showdown with a billionaire industrialist with terrifying intentions. Publishers Weekly says Katy Touchfeater is "Bubbly [and] irrepressible… Drawn by her breezy, chatty first-person narrative, readers will cheer Katy on as she skates around… with flamboyant grace."
You can order ebook, paperback and audio editions from Amazon, Apple Books, Kobo, Google Play, and Nook
In TOUCHFEATHER, TOO, Katy's assignment is to bring down what appears to be a gold smuggling operation…but is something far worse. It's a globetrotting, espionage adventure that takes her from London to a lavish yacht on the high-seas, from the jungles of Africa to the beaches of the Bahamas, and that pits her against one of richest men on earth and a deadly torturess who loves to extract information in agonizingly creative ways… and can't wait to try them all on Katy. The Irish Timesraves, "Freshness and humor are rare qualities in a thriller nowadays. They're here in plenty. Exhilarating verve and expertise. It's a winner!"
You can order the ebook, paperback and audio editions from Amazon, Apple Books, Kobo, Nook and Google Play.
We know you're going to binge the Sangster novels—just like we did. It's a great way to end your brash summer!