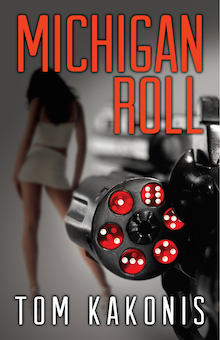 Novelist James L. Thane, author of No Place to Die and Until Death, shares his fondness for Tom Kakonis' thriller Michigan Roll

Timothy Waverly's business card describes him as an "Applied Probabilities Analyst," which is Waverly's idea of a little joke. Timothy is an ex-con out of Michigan who now makes his living in south Florida as a professional gambler, trimming the doctors, dentists and others who search out a little high-stakes action while on their Florida vacations.
Waverly did a stretch for accidentally killing his ex-wife's lawyer. The ex-wife is now remarried and living in Traverse City, Michigan, with the young son that Waverly never had a chance to know. Restless, and anxious to get out of the hot Florida sun for a while, Waverly decides to take a little vacation to Traverse City, which is a small resort community. He has no well-formulated plans; maybe he'll attempt to see his son and maybe he won't.
Meanwhile, in Traverse City, an amazingly stupid college kid named Clay Clemmons, has attempted to screw over some major drug dealers by ripping off $500,000 worth of their cocaine. Not surprisingly, the drug dealers want it back, and Clemmons, who is quickly in over his head and who has all the backbone of a chocolate éclair, calls his sister in Chicago and pleads with her to come up and somehow bail him out of this mess.
The sister, Holly, is a stunner, and she should have sense enough to tell her brother to deal with his own messes. But she's been cleaning up after her little half-brother for so long now that it seems like second nature. So she pops into her Porsche and tools on up to Traverse City. By the time she gets there, however, things have gone from bad to worse. The drug kingpin has dispatched two particularly nasty creeps to deal with Clay, and he is now in hiding. Neither the creeps nor his sister can find him.
The creeps can't find Clay, but they do find Holly and attack her in a parking lot in an effort to make her give up her brother. Enter Timothy Waverly at exactly the opportune moment. He rescues Holly and in short order is caught up in the middle of this whole mess.
What follows is an entertaining story that will remind some readers of an Elmore Leonard novel. The characters are quirky and interesting; the plot moves along at just the right pace, and Timothy Waverly is a very engaging protagonist. The book should appeal to any reader who enjoys Elmore Leonard and is looking for something similar.