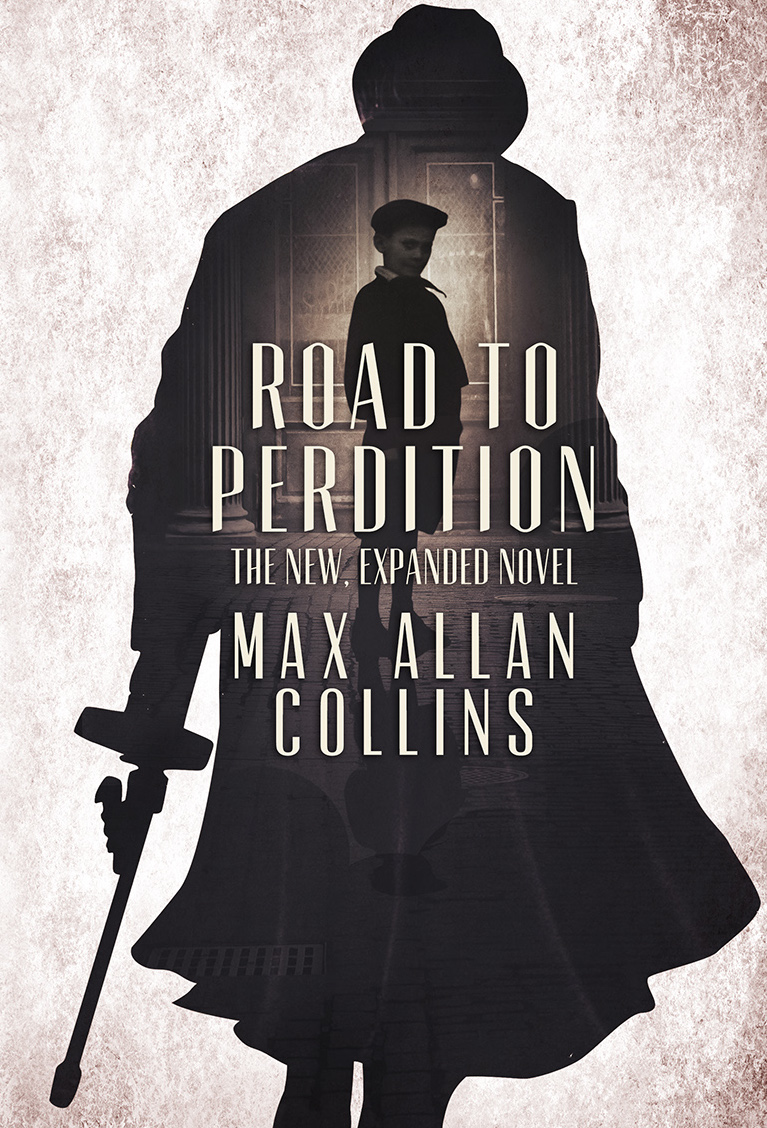 One of the nicest things that happened to me last year – acknowledging that 2016 was something of a mine field I barely navigated – was the first-time publication by Brash Books of my complete prose version of Road to Perdition.
Thus far, however, we don't seem to have sold many copies, and at risk of a hard sell, I want to encourage readers of mine in general and of Road to Perdition in particular that this is a book you don't want to miss.
Perhaps you've read the graphic novel and don't see the point in revisiting this story, particularly if you've seen the movie. Or maybe you read the previously published version and figure that, even though it's 30,000 words shorter, you've already experienced this story in prose.
You haven't. The Brash publication of Road to Perdition brings into print (and e-book) one of my best novels. And it's a novel that begins (and in this case completes) the trilogy of Road novels that includes both Road to Purgatory and Road to Paradise.
I should also make clear that the new Road to Perdition novel (and it's "new" despite having been written in 2001) is not just 30,000 words longer – it's a different novel entirely. To explain, I have to revisit the painful experience of writing it.
Knowing that someone would write the "novelization" of the film based on the graphic novel by Richard Piers Rayner and me – and being, at the time, a hot property among novelization writers – I lobbied to get the assignment myself. I had already done the very successful novelization for DreamWorks and NAL of Saving Private Ryan. It sold half a million copies and was on the New York Times bestseller list. I got the Perdition assignment.
My approach to writing a movie novelization (I hate that term!) is not entirely standard. Unlike a lot of tie-in writers, I throw out much of the dialogue and write my own. (I'll speak in the present tense here, though it's doubtful I'll ever write another movie tie-in novel.) My reasoning is that movie dialogue and novel dialogue are two different animals. In addition, movie scenes – very short, often two pages or less – need fleshing out.
Similarly, movies tend to skip scenes and let the viewer fill in. A movie doesn't have to explain how a bunch of characters got from point A to point D, because the movie depicts those characters at point D – so they must have got there, right? But in the novel version, I would write about getting from point A to point B and point C before doing point D. In other words, I add scenes.
I once had a call from director Jonathan Moslow, whose U-571 I had novelized. He told me how much he liked the book – this was the only such call I ever received, by the way – but wondered how I'd known to cut several scenes and also to add several others that had not been in the screenplay. I explained that, in my modest way, I was a filmmaker myself – that I'd directed a handful of indie features. And when I read certain scenes, I'd known they'd be skipped; and when I added certain scenes, I'd known they'd be needed…or at least would flesh out the narrative for a reader of the novel.
In Saving Private Ryan, I not only changed the dialogue and added scenes, I did considerable research and wove all kinds of factual material into the narrative. (Later, when I was signed to write the Windtalkers novel – about the Navajo code talkers – I was specifically asked to give that script the same Saving Private Ryan-style research-driven approach.)
What I had learned, doing a dozen or more novelizations, was that what the Hollywood folks wanted me to do was "follow the script out the door." In other words, I needed to include every beat of action and narrative in the screenplay, preferably in the same order. A conversation about something could be in different words than the screenplay, as long as it appeared in the same place and covered the same ground.
So when I approached the novel version of Road to Perdition, I took my usual approach. I wrote my own dialogue, and I restored material from the graphic novel that had not been in the screenplay. I provided linking scenes. I also added a lot of period detail and historical material that hadn't made it into the graphic novel, either. The memoir aspect of the graphic novel I restored by way of italicized first-person openings for each chapter.
The novel was substantial for a movie novelization – something like 80,000 words – and I was proud of it. Felt it was my best movie novel and that it was a real complement to the original graphic novel. I sent it to my agent, who liked it very much (and he's a tough audience), and the tie-in editor at NAL said it was the best movie novelization he'd ever read. He was thrilled. Ecstatic.
Happy times at the Collins household.
Then the DreamWorks people got hold of the book. They were not pleased. They could not have cared less that I was the creator of the original material. What they wanted – what they demanded – was that all of the dialogue from the screenplay be included, exactly as written. They also wanted any material not in the screenplay removed.
I made my case through my agent, and later directly to the editor. But editors who have a movie novelization on their lists answer to the movie studio, who must sign off on the manuscript before publication. So those editors tend not to rock the boat. Whatever the studio wants, the studio gets.
I went through numerous rewrites. In the first of these I put the movie dialogue in, but retained the extended dialogue of my own that had lengthened the scenes fore and aft. This is a necessary novelization technique because movie scripts tend to run 100 to 120 pages, and by contract the novel usually must reach 300 pages. Simple math means that some material needs to be added.
Nonetheless, I was required to remove any dialogue that had not been in the screenplay. To get the book up to any sort of length at all, I changed patches of my dialogue into third-person interior monologue. That's one of the reasons why the complete Perdition novel isn't just longer than the previous version, but substantially different.
The craziness continued. As the movie went through various stages of post-production, I was required to cut any scenes that were cut as the film itself was tightened in editing. Most novelizations include scenes that were cut from the film, and that's one of the fun of reading them – getting deleted scenes, so to speak. Such cutting made mincemeat of the novel – one chapter was reduced to a page and a half.
When the book was finally published in its truncated, bastardized form, the length was around 40,000 words. I thought of it was the Scholastic Books version. That it made the New York Times bestseller list was a bitter victory.
Throughout the process of aborting my own child, I was told that it was director Sam Mendes himself who was insisting on these changes. I'd met Mendes on set and had a long, friendly, even warm conversation with him. I found it hard to believe he'd behave in this fashion. At the London premiere, we spoke again, and one of the things he said was, "I understand you wrote the novelization. I can't wait to read it."
So.
If you like my work, if you like Road to Perdition in any of its previous forms, go to Amazon or Barnes & Noble or BAM! and order Road to Perdition: The New, Expanded Novel. You are unlikely to find the book in any brick-and-mortar store, but I do recommended the physical book over the e-book, as it's a handsome thing.
You can find the ebook on Amazon, Google Play, Kobo, and iTunes. Heck, buy it at all four — who knows, maybe you'll switch devices one day!][Also, Indiebound is a service that helps readers find a local bookstore where the physical novel can be special ordered, often online. Here's the link.]
The sequel, Road to Purgatory, is also a handsome thing, and it's just been published by Brash. (Read about it here: https://www.brash-books.com/book/road-to-purgatory-coming-in-february-2017/) Brash will be doing Road to Paradise as well, later this year or early next. The books have lovely uniform covers and will make a nice set for you to place on your bookshelf next to Nate Heller, Quarry and Barbara Allan.
The joy of having the real Road to Perdition novel exist will be greatly amplified if some of you actually read it.