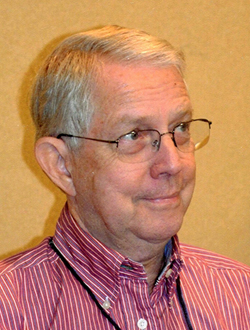 In an interview with Bill Crider at his Alvin, Texas home, Brash Books co-publisher Lee Goldberg jokingly said that he arrived in his press's small plane, Bill Crider then discussed his two cross-genre mystery/westerns published with Brash as well as an unpublished novel and abandoned sequels. At the conclusion of the promotional piece, Crider says, "Now get that corporate jet off my driveway." Such was the gentle, good-natured humor of Bill Crider, who passed from cancer at his home in Alvin on February 12, 2018.
When Too Late to Die (Crider's first Dan Rhodes Mystery) won the 1987 Anthony Award for Best First Novel. Crider was off and writing. Crider wrote the popular Sheriff Dan Rhodes Mystery Series from 1986 to 2017. He then started the Carl Burns Mystery Series, the Truman Smith Mystery Series, and the Sally Good Mystery Series. He co-wrote the Stanley Waters Series and the Stone: M.I.A. Hunter Series. He wrote four stand-alone mystery and suspense novels and collaborated on spy fiction. He wrote horror novels as Jack MacLane. In the nineties, he wrote Westerns and young adult novels. He even published a short story collection. Bill obviously stayed busy.
His unassuming obituary from Scott's funeral home mentions his B.A. in English from the University of Texas at Austin (1963), his M.A. from North Texas State University (1967), and his Ph.D. from the University of Texas at Austin (1972). And from his obituary, we learn that Bill met the love of his life on a blind date and married her in 1965. And we learn that he taught English at Howard Payne University and then became the Chair of the Divison of English and Fine Arts at Alvin Community College. The obit goes on to mention that he was a prolific writer. The obit matches Crider's gentle and sly wit and modesty.
When Crider left academe in 2002 to pursue his writing, students at Alvin College lost but readers gained. Crider continued to write, to entertain other writers, to work on other writing projects both for himself and others through December of 2017. Sadly, his wife, Judy, died in 2014.
Bill Crider's two children will miss him. Fellow writers will miss him. Readers too will miss him, but we have his many, many books.