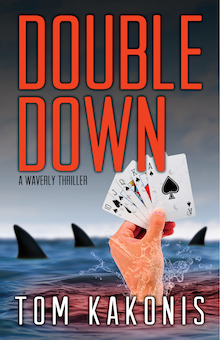 Novelist James L. Thane, author of No Place to Die and Until Death, shares his fondness for Tom Kakonis' thriller Double Down.
This is the second book in Tom Kakonis's excellent short series featuring Timothy Waverly, a professional gambler whose business card wryly describes him as an "Applied Probabilities Analyst."

The end of the first book, Michigan Roll, found Waverly in a world of hurt after he accidentally stumbled into a drug deal that went bad. When all was said and done, $500,000 worth of drugs wound up destroyed. The drugs belonged to a crime boss named Gunter Dietz who blames Waverly for the loss of the drugs and who expects to be repaid. Waverly and his best friend and mentor, Bennie Epstein, manage to raise the $500,000, and Bennie meets with Dietz in Chicago and pays him off. But Dietz now insists on an additional $50,000 in interest and another $250,000 on top of that to compensate him for all his trouble. Generously, he gives Bennie and Waverly two weeks to come up with the rest of the money, Or Else.

Bennie and Waverly have been lying low in Palm Beach, Florida and have scraped up every last dime they can just to pay the first $550,000. Raising another $250,000 is an impossibility, especially in such a short span of time. They know that Dietz will kill them if they don't come up with the money and they're pretty sure that he intends to kill them even if they do.

And with that set-up, the book is off and running. Just when the situation seems darkest, Waverly accidentally runs into an old friend named Caroline, who is now married to another of Waverly's childhood friends who is in Palm Beach putting together a huge investment deal. Involved in the deal are a number of wealthy men including an Arab prince, who fancy themselves to be pretty good poker players. Waverly hopes that he might somehow finagle his way into their games and, by some miracle, raise the money he and Bernie so desperately need. Meanwhile, of course, Dietz has put not one but two supremely mismatched hit men on the trail of Bennie and Waverly with instructions to kill them, no matter how things turn out.

As always, Kakonis weaves a great story, but the real strength of his books lies in his ability to create fantastic characters, as is evidenced here. Timothy Waverly makes a great protagonist, extremely talented, deeply flawed and ultimately very human. The two hit men are the mobsters' equivalent of Oscar and Felix, and Waverly's old girlfriend complicates his problems by suggesting that she might like to be more than just his old friend. There are a number of very good poker scenes and all of it leads up to a smashing climax.

Double Down book was first published in 1991, and like most of Kakonis' other work, has been difficult to find for some time now. Happily, the folks at Brash Books are now in the process of bringing out handsome new editions of all of the author's earlier work and are publishing his new book, Treasure Coast. For this, all crime fiction fans are in their debt.