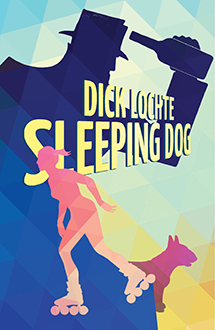 My guess is that most writers become novelists in the usual way. Their muse convinces them to buy writing software. They use it to complete a manuscript. They're lucky enough to find an agent and an editor who like what they've done. That's not how I did it. The words "Chapter One," hadn't even occurred to me when I parlayed several essays that appeared in the Los Angeles Times into a weekly column in the paper's Book Review section.
The editor of the Book Review, Digby Diehl, had established a policy of running a short biographical line at the bottom of each article. I suggested "Dick Lochte is working on a screenplay," which was the truth. But Digby didn't like that.
"Everybody out here is working on a screenplay," he groused. "This is a BOOK review. Aren't you working on a book?"
I told him I could be, adding, "Make it a mystery," since that was, and is, my favorite genre.
So, every week my column was tagged, "Dick Lochte is writing a mystery novel."
About six months passed and I was surprised to receive a phone call from Alfred Knopf editor Ashbel Green who was in Southern California to meet with his writer Ken Millar (Ross Macdonald). Digby had mentioned my "mystery novel" and he was eager to see it.
I explained that the manuscript wasn't quite ready, but that I'd be happy to send it to him as soon as it was. The moment I replaced the phone is when I started working on a storyline that I hoped to turn into a 70,000-word novel. I was a professional journalist. I figured I'd knock it out in a month. It took me that long just to finish the outline. Which I didn't even use, by the way. I spent the better part of a year writing the manuscript for Sleeping Dog, which I then placed it in the hands of a top NYC agent. He sent it to Ashbel Green at Knopf and . . . Ashbel Green sent it back, saying it was too talky. I'd barely had time to slump in my chair when the agent called me with a very nice offer from Arbor House. It wasn't Knopf, but I wound up a published mystery writer, sharing Arbor House's fall catalog with the likes of Elmore Leonard.
Sleeping Dog and Laughing Dog  are comedy-noir thrillers featuring the team Leo (The Bloodhound) Bloodworth, a hard-drinking middle-aged Los Angeles private eye suffering from hypertension and a low tolerance for precocious teenagers, and Serendipity Dahlquist, a bright and strong-willed schoolgirl of fourteen who's been raised by her actress grandmother. The books are narrated by both Leo and Serendipity. The justification for what was then a fairly unique device was that they each wrote separate accounts of their adventures that a bottom-line publisher insisted be jumbled together. I like to think of it as a mashup of Raymond Chandler and Judy Blume. Humorous, but with some pretty dark elements.
Sleeping Dog won the Nero Wolfe Award and was short-listed for every other crime award that year. The Independent Mystery Booksellers Association named it as one of the 100 Favorite Mysteries of the Century. Laughing Dog went into four printings. I should note that of all the covers the books have had in this country and internationally, the ones gracing the Brash editions are by far the best I've seen.