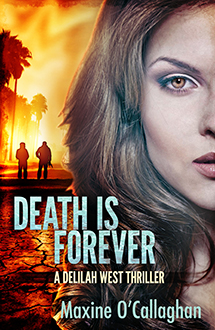 Bestselling author Marcia Muller, creator of the Sharon McCone mysteries, talks about her fondness for Maxine O'Callaghan's groundbreaking private eye, Delilah West.
Before dozens of fictional female private investigators took to the mean streets, Delilah West had already solved her first case, in the short story, "A Change of Clients." Before dozens of women authors began to alter the face of a previously male-dominated subgenre, Maxine O'Callaghan introduced her engaging detective to wide audiences in the action-packed and emotionally charged novel Death is Forever. Now this impressive start to an excellent series has been re-issued by Brash Books. Readers who are already acquainted with Delilah will enjoy traveling back in time with her, and new readers are in for a treat.
In many ways, Delilah fits the tradition of the private eye: she is tough. She can and does stand up to anyone, and she takes more than her fair share of punches. But to call her hardboiled would be to ignore the essence of the character. She has a soft core and cares deeply for her friends and clients. She has never been one to stifle her emotions, and in Death is Forever we see them nakedly exposed. She is grieving, angry, and nearly obsessed with finding the man who shot her husband and partner.
When I recently re-read the novel, I found myself caught up in Delilah's quest and came away sharing her sadness and philosophical acceptance. This is perhaps O'Callaghan's strength as a writer: she makes us feel for her heroine by allowing her to speak directly to us in a lively and intimate voice that grabs us on the first page and propels us through her adventures.
Over the course of six novels, Delilah has gone through several phases: recent widowhood; a run of hideously bad luck that had her living in her office and moonlighting as a waitress; emergence into the high-tech era; and most recently a love affair about which she feels a curious ambivalence. She's honed her skills to a fine edge, and her observations about Southern California – in particular, Orange County – have become so perceptive that even those who have never traveled there can visualize and understand the area.
When I pick up a new Delilah West mystery, I feel as though I've received a long awaited letter from an old friend. I've got to catch up, find out what she's doing, and, more important, find out what she's going to do about this current dilemma. I urge you to do the same with this long delayed letter from a charming friend.