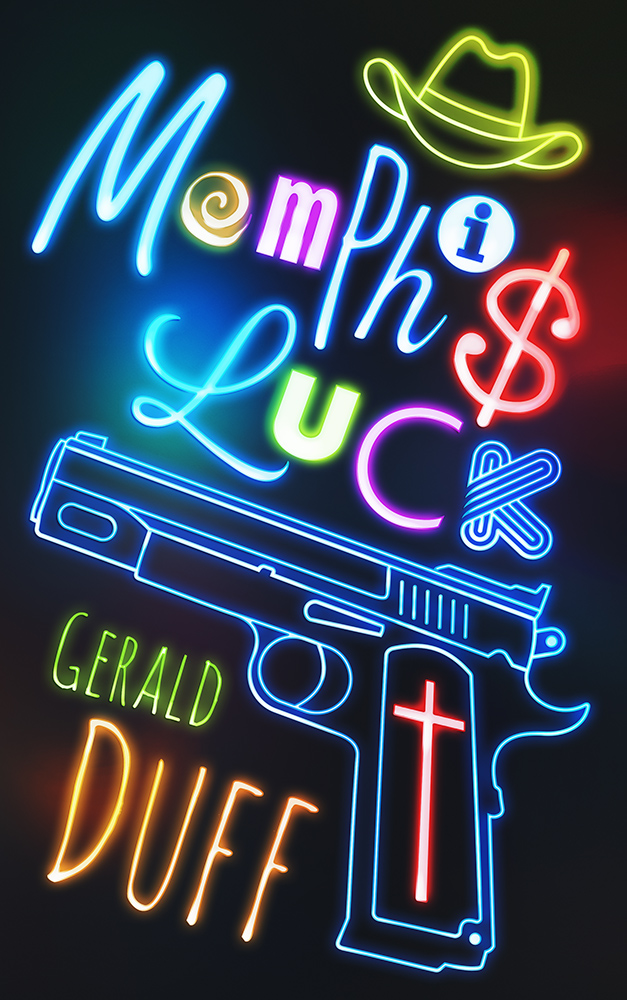 It's been a thrilling few weeks here at Brash Books, and we're blasting into July with plenty of excitement. Read on to learn more about latest releases, a new movie from one of our authors, our newest rave reviews, and all the fun we had at the Western Writers of America Conference.
MEMPHIS LUCK IS HERE!
Gerald Duff's MEMPHIS LUCK—the sizzling sequel to MEMPHIS RIBS—is finally available in trade paperback and ebook editions! The critics already love it, and we're sure you will as well.
MEMPHIS LUCK finds homicide detectives J.W. Ragsdale and Tyrone Walker colliding with colorful characters in a darkly funny tale of mayhem. Publishers Weekly declares, "This black comedy catches fire as Ragsdale and Tyrone zero in on the ex-cons en route to the mayhem-filled climax. Fans of laid-back mysteries with a strong regional flavor will be rewarded." Booklist also loved the long-awaited follow-up, calling MEMPHIS LUCK "a sprawling thriller" and Gerald Duff "an immensely gifted writer."
See how awesome MEMPHIS LUCK is for yourself. Order your copy on iBooks, Kobo, Google Play, Nook, or Amazon, and start your July with fireworks.
THE "OSCAR" OF WESTERN WRITING GOES TO LEO BANKS
Congratulations, Leo Banks! The Western Writers of America Conference was held in Billings Montana, from June 20-23, 2018, and Leo was on hand to accept two Spur Awards—the highest honor in Western writing. Presented by LONGMIRE actor A. Martinez, Leo was awarded Best Contemporary Western and Best First Novel for his debut thriller, DOUBLE WIDE. Brash Books co-founder Lee Goldberg also attended to accept the matching awards given to the publisher.

Lee Goldberg, A. Martinez and Leo Banks

Leo Banks and LONGMIRE author Craig Johnson
You can pick up your own copy of the award-winning, critically acclaimed DOUBLE WIDE in trade paperback or in ebook editions from Amazon, iBooks, Kobo, Google Play or Nook. The audio edition will be coming soon!
BRASH NEWS
Leo Banks isn't the only Brash author being recognized—and we're proud to announce that Craig Faustus Buck, author of GO DOWN HARD, has been nominated for a Macavity Award! Craig was nominated for his short story "As Ye Sow," which was published in Passport to Murder: Bouchercon Anthology 2017. Winners will be announced at Bouchercon in St. Petersburg, Florida, in September. Good luck, Craig!
Production has started on the third DARROW & DARROW movie, written by Phoef Sutton (author of FIFTEEN MINUTES TO LIVE) for the Hallmark Channel. Phoef joined stars Tom Cavanagh and Kimberley Williams-Paisley in Vancouver as filming got underway. Stay tuned for more information on when the next film will air.

Phoef on set with Tom Cavanagh and Kimberly Williams-Paisley
A RAVE FOR LA MORDIDA
Along with awards, Brash authors are also raking in rave reviews! The Beaumont Examiner heaped praise on Jim Sanderson's LA MORDIDA, calling it "A page-turner, mind-bending, fun read that gives readers the escape it promises… and much more… proving a book can be at once entertaining and though-provoking. With a twisting plot, complex characters, and a setting on the 'edge of civilization' where nothing is quite as it seems, LA MORDIDA digs deep. If you're in need of a casual summer read… or something that will keep you thinking and guessing, LA MORDIDA is that book."
Add it to your summer reading repertoire with a copy from iBooks, Kobo, Nook, Google Play or Amazon.
AUGUST TITLES NOW AVAILABLE
Our two big August titles are available now for preorder!
Max Allan Collins's BLACK HATS, previously released under the pseudonym Patrick Culhane, pits legendary lawman Wyatt Earp and his six-shooter against notorious gangster Al Capone, and machine-gun toting killers on the streets of New York City in the glittering 1920s.
Jimmy Sangster's TOUCHFEATHER, TOO, brings back sexy stewardess with a license to kill: Katy Touchfeather. This seductive sequel to his swinging sixties spy thriller, TOUCHFEATHER is just as action-packed, funny, and exciting as the original.
Preorder both, and plan some time to dive into these page-turners this August.
BLACK HATS: Amazon, iBooks, Kobo, Nook
TOUCHFEATHER, TOO: Amazon, Kobo, Nook
We wish you a Happy Fourth—and Happy Reading! Until next time, read on, and stay Brash.