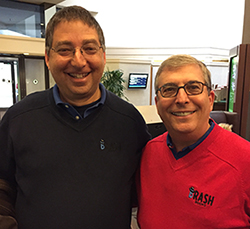 Two years ago today, Edgar Award nominated novelist Joel Goldman and #1 New York Times bestselling author Lee Goldberg
launched
Brash Books
with thirty titles, most of them acclaimed, award-winning books that had fallen out of print…and that we brought back in new print and digital editions.
Their mission was ambitious: to publish the best crime novels in existence. We believe we've lived up to their brash goal. We now have nearly 100 titles in print, a dozen of them brand new books, several by authors who've never been published before. We couldn't be more proud of our books and our incredible line-up of authors.
Everyone at Brash Books wants to give our heartfelt thanks to all of our readers and especially to these amazing authors for putting their faith in us:
Bill Crider,
Bob Forward,
Phoef Sutton,
Mark Rogers,
Jane Waterhouse,
Margaret Moseley Burris,
Jim Sanderson,
Philip Reed,
Robin Burcell,
Gar Anthony Haywood,
Warren Ripley,
Andy Straka
,
Dick Lochte,
Craig Faustus Buck
,
Noreen Ayres
,
Michael Genelin
,
Gerald Duff
, Max Allan Collins, Patrick E. McLean, Phillip Thompson, Mark Smith, Barbara Neely, Maxine O'Callaghan, Tom Kakonis, Jack Bunker, Michael Stone, and the estates of Ted Thackrey Jr. , Jack Lynch, and Stan R. Lee. 

We have an amazing line-up of books coming in the next 12 months and we can't wait to share them with you.