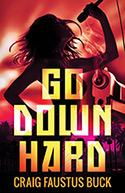 Fall has officially arrived, and it's going to be filled with excitement here at Brash Books! From sneak peeks to cheap thrills to a big, brash end-of-summer bash, read on for all the latest news.
CHEAP THRILLS
Add a little intrigue to your autumn with two beloved Brash titles, now  just 99 cents each!
Named one of the 100 Favorite Mysteries of the Century by the Independent Booksellers Association, Dick Lochte's SLEEPING DOG was a New York Times Book of the Year, Nero Award Winner, and a finalist for the Edgar, Shamus and Anthony Awards. Hilarious and horrifying in equal turns, this crime-noir thriller definitely lives up to the hype!
Macavity Award winner Craig Faustus Buck's GO DOWN HARD is a wild journey through the noir worlds of aging rock-and-rollers, live Internet sex shows, abusive psychiatrists, Slavic mobsters, child molesters, emotional betrayal, deceit, arson, murder and estate planning. Described as "a spirited mix of noir homage and hard-boiled spoof," you won't be able to put it down!
Both books are available on Amazon, B&N, iBooks, and Kobo for 99 cents each through September 26. Put them on your fall reading list!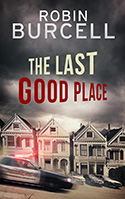 A NEW YORK TIMES BESTSELLER
Brash Books congratulates our author Robin Burcell, whose first collaboration with Clive Cussler, PIRATE, debuted at #2 this week on the New York Times bestseller list. If you can't get enough of Burcell—and we know you can't—then you have to grab her her Brash thriller THE LAST GOOD PLACE , the continuation of the book series that was the basis of the hit TV series THE STREETS OF SAN FRANCISCO.  Now available on Amazon, iBooks, Kobo and Nook!
BRASH AT BOUCHERCON
It was big fun in the Big Easy as mystery writers from around the globe gathered for the Bouchercon World Mystery conference in New Orleans. Brash authors Bill Crider, Robin Burcell, Phoef Sutton, Jim Sanderson, Jane Waterhouse and Craig Faustus Buck were all in attendance, creating a big Brash presence at this awesome event!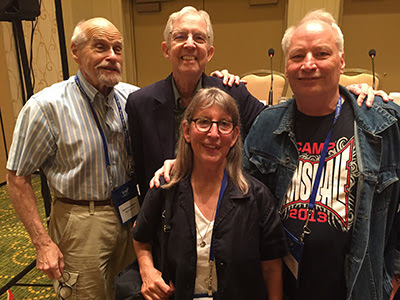 Lawrence Block, Bill Crider, SJ Rozan, Joe Lansdale

Lee Goldberg, Bill Crider, Charlaine Harris, Parnell Hall
Bill Crider participated in a lively panel with bestselling novelists Lawrence Block, Joe Lansdale, Catherine Coulter, and SJ Rozan and, along the way, ran into Lee Goldberg, Charlaine Harris (author of the Sookie Stackhouse novels that became True Blood), and Parnell Hall, whose latest book with Stuart Woods was a top-10 New York Times bestseller.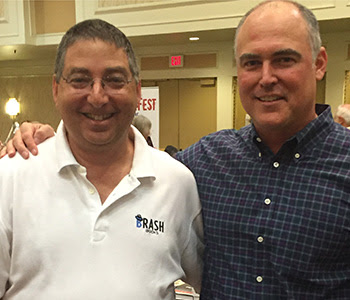 Lee and Ace Atkins

Lee, Mark Greaney, Reed Farrel Coleman
Lee Goldberg also met up with Ace Atkins, author of Robert B. Parker's SLOW BURN, who says Brash author W.L. Ripley's Wyatt Storme series is among his favorites—right up there with Spenser and Dave Robicheaux. Additionally, Goldberg shared a panel with Mark Greaney (who currently writes Tom Clancy's Jack Ryan novels) and Reed Farrel Coleman (who writes Robert B. Parker's Jesse Stone series).

Phoef Sutton paired up with Lee Child, who raved about Phoef's new novel, HEART ATTACK AND VINE, published by our good friends at Prospect Park. The latest Crush caper has also earned raves from Publishers Weekly and Kirkus Reviews, and Sutton's Brash bestseller, FIFTEEN MINUTES TO LIVE, was lauded as "just brilliant!" by Stephen Moffat, showrunner of SHERLOCK and DR. WHO.
SNEAK PEEK
We're just a month away from the Brash Books November 1st publication of Max Allan Collins' "author's cut" of his ROAD TO PERDITION novelization. The epic new novel combines and expands upon all that came before to create the ultimate version of his unforgettable story and will be followed by the publication of the acclaimed sequel, ROAD TO PURGATORY, in May 2017. Dying to know more? Sneak a peek at the cover here! Then, be sure to tune in to Cinemax on Fridays at 9pm to check out all eight episodes of QUARRY, based on the Collins' novels—which have earned rave reviews coast-to-coast!
We hope your fall begin with a warm fire and hot read! Until next time, read on, and stay Brash.