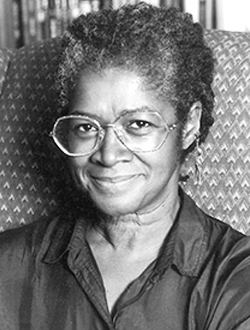 We have big news! Brash author Barbara Neely has been named this year's Grandmaster by the Mystery Writers of America, the organization's highest honor. Here is their announcement:
"Mystery Writers of America is thrilled that Barbara Neely is MWA's 2020 Grand Master," MWA board president Meg Gardiner said. "Neely is a groundbreaking author, and MWA is delighted to recognize her work, in which she tackles tough social issues with an unflinching eye and a wry sense of humor."

MWA's Grand Master Award represents the pinnacle of achievement in mystery writing and was established to acknowledge important contributions to this genre, as well as for a body of work that is both significant and of consistent high quality. Barbara Neely is best known for her Blanche White mystery series, and her debut, Blanche on the Lam, received the Agatha Award, Anthony Award, and the Macavity Award for best first novel, as well as the Go on Girl! Award from Black Women's Reading Club. Neely published her first short story, "Passing the Word" (1981) in the magazine Essence. Her Blanche White novels, which featured the first black female series sleuth in mainstream American publishing, followed a decade later beginning with Blanche on the Lam (1992), followed by Blanche Among the Talented Tenth(1994), Blanche Cleans Up (1998), and Blanche Passes Go (2000) and are beloved by fans in part because of her unique heroine—an amateur detective and domestic worker who uses the invisibility inherent to her position to her advantage in her pursuit of the truth.

"MWA Grand Master! I hope this doesn't mean I have to relinquish my position as Empress Regnant of the Multiverse," Neely said on learning of the award.

Neely's nomination cited the stories of Blanche White for containing themes and issues that extends beyond mystery and into political and social commentary. "Blanche allows Neely to explore the female beauty. There are other issues that Neely is able to tackle through her writing—such as violence against women, racism, class boundaries, and sexism. Barbara Neely is quoted as saying, 'That as a feminist mystery writer it is not enough to create strong women, and that maybe the term "feminist mystery writer" is being used too loosely.'"
We are thrilled for Barbara and proud to be her publishers. You can find all four of her amazing Blanche White books here.